User Interface Overview
The Intershop Order Management user interface is divided into three major areas: the main content area, the navigation bar and the top bar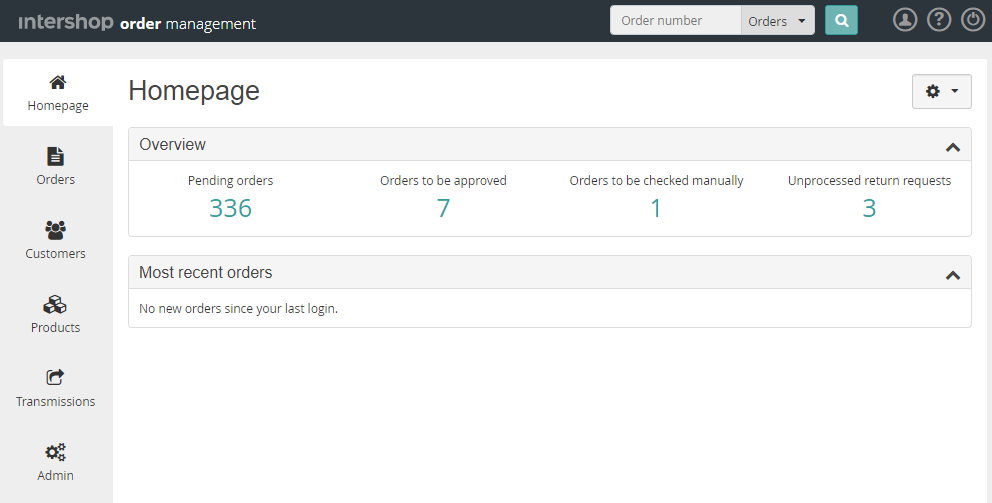 Top bar with quick access links

The quick access links provide immediate access to certain user-specific functionalities, like access to the user profile and session logout.

Quick Search

The quick search allows for searching for orders, customers, products or RMA numbers, irrespective of the selected Order Management Tool page and the available widgets.

Tip:

The quick search always keeps its last selection of the search context during a user session until something else is selected.

Navigation bar

The navigation bar provides access to tools for a certain type of objects, like orders, customers or products. The navigation bar also includes the Homepage button, which takes the current user to the Order Management Tool start page.

Main content area

The main content area is composed of widgets, which contain the actual content related to the selected object type. Using the widget selector, you can switch on or off individual widgets.

Figure

2

.

Widget Selector

Available widgets are:

Overview

The Overview widget shows the number of pending orders, orders to be approved, orders to be checked manually and unprocessed return requests.

Most recent orders

The most recent orders widget shows new orders since your last login.

Order search

The order search widget is equivalent to the simple order search that can be found in the Orders section, see Simple Order Search.

Product search

The product search widget is equivalent to the simple product search that can be found in the Products section, see Simple Product Search.

Customer search

The Customer search widget is equivalent to the simple customer search that can be found in the Customers section, see Simple Customer Search.